Kingroon KP5L Review: Spec, Upgrades, Print Test, and More
Unlike the earlier released cantilever style KP3S 3D printer, the Kingroon KP5L 3D printer has a new style like the Prusa i3 with much larger build volume. It prints max 300*300*330mm object. Comparing with other large 3D printers (such as Sidewinder X2, SOVOL SV03) that have similar build volumes, Kingroon KP5L is relatively a high cost performance ratio 3D printer worth to try. We can see a lot of advanced features on it, like titan direct drive extruder, SGR 15 linear rails, dual Z-axis lead screws, which can hardly be seen on other 3D printers in similar or even higher price range. 
KP5L 3D printer specifications
Before we go to a new 3D printer, specifications are often the first thing we see to know its performance, functions and features. For this purpose, let's read below table of Kingroon KP5L specifications, which includes the most important parameters for a 3D printer, such as the build volume and printing speed, print bed type, nozzle size, suitable filament types, and etc.
| | |
| --- | --- |
| Technology | FDM (Fused Deposition Modeling) |
| Power Input | AC 115/230V 50/60Hz |
| Machine Power | 300W |
| Operation System | WIN / XP / MAC / Linux / Vista |
| Machine Size | 375*395*430mm |
| Packing Size | 670*560*220mm |
| Build Volume | 300*300*330mm |
| Printing Speed | 30-150mm/s |
| Resume Print | yes |
| Filament Sensor | yes |
| Auto Leveling | no |
| Print Method | via PC or SD card |
| Mainboard | STM32 |
| Nozzle | 0.4mm (default) |
| Nozzle Temp | ≤ 260℃ |
| Bed Temp | ≤ 100℃ |
| Print Surface | Tempered glass plate |
| Filament Size | 1.75mm |
| Filament Material | PLA / PETG / TPU / ABS / etc. |
| Language | EN / RU / JP / FR / ES / DE / IT / KR / CN |
Price and build volume comparison with similar printers
While the Kingroon KP5L costs only 350$, the other big bed 3D printers with similar features, such as the Sidewinder X2, SV03, and even the Creality CR-10 V3 cost around 450$.
| | | |
| --- | --- | --- |
| 3D Printer | Price | Build Volume |
| Kingroon KP5L | $349 | 300*300*330mm |
| Sidewinder X2 | $469 | 300*300*400mm |
| SOVOL SV03 | $459 | 350*350*400mm |
| Creality CR-10 | $499 | 300*300*400mm |
Unbox of Kingroon KP5L
The Kingroon KP5L comes in a finely packaged box. Closed cell foams lay between parts to prevent damages caused by vibration during delivery. The printer parts are bolted flat into two halves inside the box. Also, we can find accessories, Micro SD card, cables, ties and other additional tools inside the box.
Packaging List of Kingroon KP5L
1. Top assembly (frame, Z-axis, X-axis and print head) *1
2. Printer base *1
3. LCD screen *1
4. Filament spool holder *1
5. Power cable*1
6. Ribbon cable*1
7. USB cable *1
8. 2*4 PTFE tube *1
9. 0.4mm MK8 brass nozzle *1
10. M5*35 screw *4
11. M5*10 screw *2
12. PLA filament *1
13. 8GB SD card and card reader
14. Pliers *1
15. Two way socket hex wrench *1
16. 1.5/2.0/2.5*3.0 L wrench set *1
17. Needle *1
18. Manual *1
Install Kingroon KP5L in 30 minutes
As mentioned above, the Kingroon KP5L comes in two halves inside the box. And it's really quick to install it.
Bolt the top half onto the bottom half, and plug the connectors in. And you've got the assembly half done.
On the manual, there are 5 pictures that describe clearly the process of installation. If you're not that familiar with a 3D printer, refer to these pictures while installation.
Another thing we notice is that the X and Y-axis belts are a little bit loose installed. It's probably because tight belts tends to be damaged during delivery. Hence before we print on a newly installed KP5L, tightening the two belts is necessary for appropriate motion on both X and Y axis.
As we did, the assembly of Kingroon KP5L can be done in around 15-25 minutes, and maybe a little longer for beginners.
Why KP5L is recommended
As mentioned in the beginning, Kingroon KP5L costs less than 350 bucks but has a lot of advanced features which most of us would prefer. And that's why we recommend Kingroon KP5L if you're going to get a larger printer.
Now let's get to know about advanced features on Kingroon KP5L 3D printer.
Titan direct drive extruder

Same as the smaller KP3S, Kingroon KP5L also has a Titan direct drive extruder.
Advantages of Titan direct drive extruder:

1. Equipped with lightweight NEMA 17 stepper motor, Titan extruder operates powerfully with less noise.

2. With a 3 to 1 gear ratio, Titan extruder brings us awesome resolution, power and reliability to print.

3. With adjustable tension, Titan extruder works on nearly all types of filament from hard carbon fiber to soft flexible, especially good for PLA, ABS, TPU and nylon printing.

4. With an idler release lever, it's easy to load or unload filament on Titan extruder.
These impeccable advantages make the Kingroon KP5L with a Titan direct extruder always a good option for 3D printing.
SGR 15 linear rails
While most of other big 3D printers in a relatively higher price range are using V-slot rollers (which can become pretty much suck) for their motion system, the new Kingroon KP5L is using SGR 15 linear rails on all its X, Y and Z-axis. 
SGR 15 linear rail on Y-axis of Kingroon KP5L 3D printer
Unlike the MGN linear rails on the KP3S 3D printer, the SGR linear rails are rare to be seen on a 3D printer.
On a MGN linear rail system of the Kingroon KP3S, the motional component (extruder or heat bed on the KP3S) moves on the single steel bar rail placed in the middle of the X or Y axis.
But on a SGR linear rail system of the Kingroon KP5L, the motional component  (either the extruder, heat bed, or the Z-axis) moves in between two grooved edges of the SGR linear rail. Simply to put, a SRG linear rail works more stable and reliable than a MGN linear rail.
TMC2225 silent stepper driver
On the KP5L, we also find a TMC2225 silent step driver which is friendly for much less noise while printing. We measured a noise around 50dB when print with KP5L, which is much alike staying in a quiet office.
Textured glass bed
KP5L has a textured glass bed for better bed adhesion than a smooth glass type. It's also a plus if you're not willing to spend more money and do the upgrade on your own.
Tiny but usable touch screen
The 2.4 inch resistive touch screen which is also used on KP3S 3D printer looks a little tiny on the KP5L, but it's really a usable screen and already tested on the KP3S.  
Dual Z-axis lead screws
Another thing could make us favour the KP5L more is its dual Z-axis lead screws design. One for each side of printers Z-axis greatly balances and stabilizes the motional accuracy on the Z-axis.  
Beyond the above mentioned easy-to-see advantages, Kingroon KP5L also has other trivial but helpful features you may neglect, for example, heat bed with insulation cotton underneath for fast bed warming up and 2.4 inch touch screen for easy and responsive control of the printer.
Test print of Cali-dragon on Kingroon KP5L
To find out how the Kingroon KP5L prints, we decided to print a cali-dragon on Cults3D to see the result.
Cali-dragon is a popular 3D model developed to check if 3D printing issues like stringing, ghosting, small perimeters, lost details happen
Link: https://cults3d.com/en/3d-model/game/cali-dragon
Print settings:
Default parameters for KP5L with recommended 0.2mm layer height and 0% infill on Cult3D.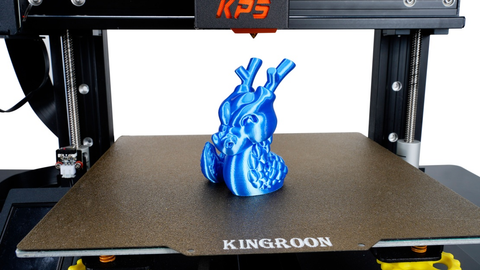 As we see in the above picture, the cali-dragon printed on the Kingroon KP5L turned out to be a perfect one. We found no stringing between the horns, no overhangs under the cheek, and no ghosting on the surface. And the dragon scales are in good shape.
3D Printable Upgrades & Modifications of KP5L
Here we have some printable upgrades & modifications from Thingiverse.com for your Kingroon KP5L 3D printer.
1. Spool Holder
Download link: https://www.thingiverse.com/thing:5389169
Designer: voltNik

The original spool racks for KP5L stand alone on the table and tend to become not that stable when filament on the spool is about to run out.

This spool holder designed by Kanocz from Thingiverse is an upgrade you should try if you're having the problem. It can be directly mounted onto the frame of KP5L, which provides more stability while filament are pulled into the extruder.
2. Rozintal LCD mount for Marlin Firmware
Download link: https://www.thingiverse.com/thing:5326367
Designer: Anton Skorochod
The KP5L stock firmware runs with a vertical LCD screen. But after KP5L is upgraded to Marlin firmware, we need to change the screen mount horizontally.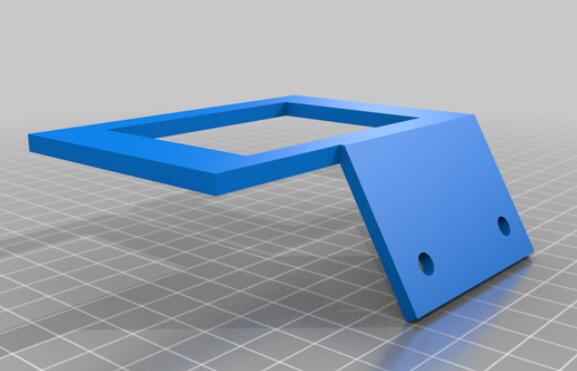 3. Y-axis tensioner
Download link: https://www.thingiverse.com/thing:5326289
Designer: Brandon Eich

This so-called Y-axis tensioner on Thingiverse contains three components, a knob, a bracket and an idler. It can be mounted onto the KP5L Y-axis and gives us a more convenient way to tighten the Y-axis belt just by manually turning the printed knob.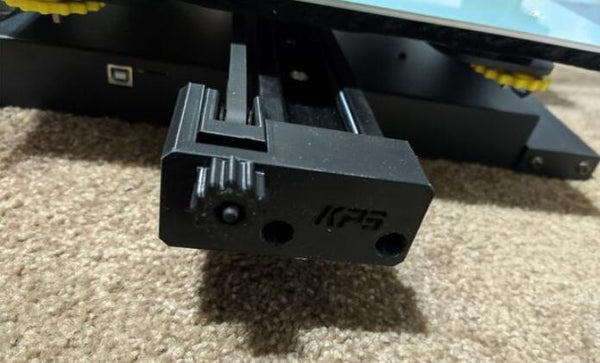 4. Adjusted BLTouch Mount
Download link: https://www.thingiverse.com/thing:5397443
Designer: rocky wiggins
To upgrade your Kingroon KP5L with a BLTouch or 3D touch leveling sensor, you should have this adjusted BLTouch mount printed in advance. This fits perfectly while you're mounting a BLTouch onto the printer.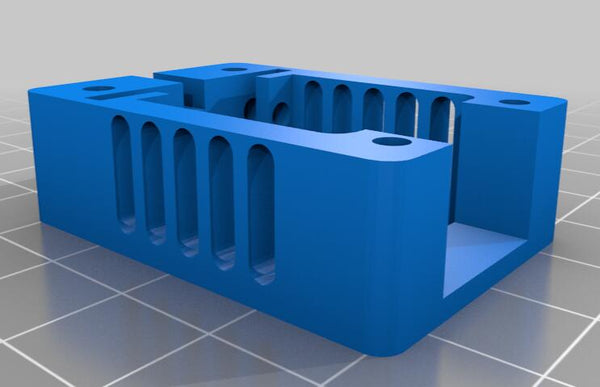 KP5L Production Timeline
After the release of KP5L in the early of 2022, we have been keep updating the product based on the feedback that we collected from our users. Next, we will talk about the recent modifications on KP5L on April, 2022 for the later on production version.

1.The silicone leveling column
Since the KP5L has a thermal insulation mat, the silicone leveling column sometimes make it break and causing other issues. So, we use springs to instead. They are easier to use now.
2. The Y-axis linear rail guide
There were three screws in one line to fix the Y-axis linear rail guide, it might get loose during shipping. To avoid that and increase the stability, we now doubled the screw number and make the them two lines. So, it's much more durable and for more solid printing.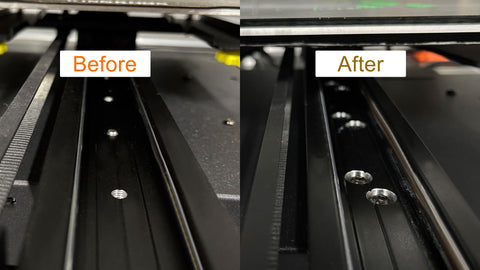 3. the Z-axis stabilizer
In the former version, the Z-axis stabilizers are not all the way to the top, they were fixed in the point near it, which causes problem when print high stuffs. On the other hand, it does not look good. So, we redesigned it and have the problems fixed.
So, they are now on the top, the bearings are wrapped inside. Looks clean and works better.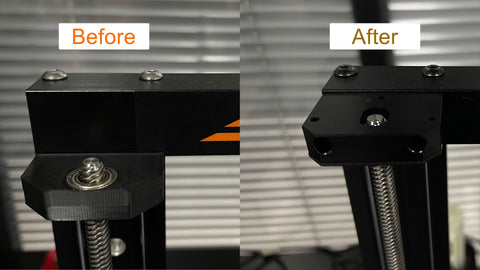 4. The switch holder
The switch holder holds the Z-axis limit switch, sometimes we need to make tight the Z-axis gantries, this unit will get the screwdriver blocked. So, we modified it, leaving some room to let the screw driver pass.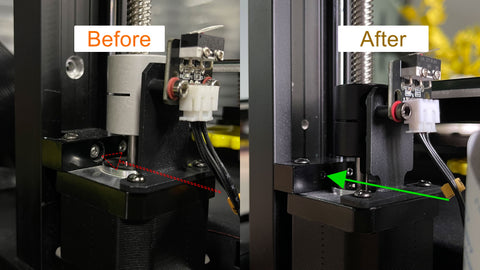 Conclusion
Comparing with other 3D printers with similar build volumes around 300*300*300mm, the Kingroon KP5L has more advanced features like the titan direct drive extruder, reliable SGR 15 linear rails, stable dual Z-axis, but sells at relatively lower price. It prints bigger part or 3D models with decent qualities.
Frankly to speak, Kingroon KP5L is also a worth to buy budget friendly 3D printer.